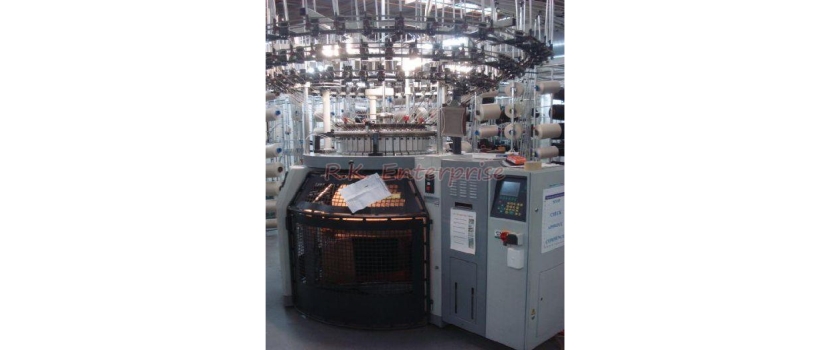 The uninterrupted and regular usage of knitting machines has supported the widespread production of clothes in bulk. Moreover, the apparel industry is hardly favouring any manual work nowadays as dependability increases on these machines.

The main factor is the substantial production of any fabric at a faster speed. We may have seen older versions of these machines, but now these are recognised for special manufacturing and production work for fabrics. There has been a significant evolution of knitting machines as we can realise and see many models in the market. Used Mayer Circular Knitting Machines is one of the best implementations ever seen.


The main purposes are the production of high gauge and innerwear fabric with huge fabrics. The manufacturers may demand other machines for fulfilling the specific goals.


Formation of Circular Knitting Machines:
You may find a seamless tube for a circular knitting machine. The stitches are attached with circles. We may see equivalent rows for flat knitting done via spiral work.


In the introductory phase, some double-pointed needles were used. But as of now, we mainly focus on circular needles for knitting in motion. It is also the combination of adjoined needles.


Hence, the popularity is getting increased day by day for producing quality fabrics. Top-notch standards are already raised by Singapore, Germany, Japan, China, and other countries. These Used Mayer Circular Knitting Machines are also amended with any diameter for assistance in the production of various clothes. There is quite a huge difference between the inner and outer garments we wear. It also switches to decorative stitching as well. Another important point of discussion is the latching needle which processes several layers of yarns.
The latching needles are known as a special type of needles for forming any loops whether it is miss loops or knit loops. The sinker is also available. The feeding unit will have timing sensors so that the machine may stop in an automated manner. VDQ pulley is also a significant tool for stitching the fabric for a suitable length.


There is some more framework like cams, needles, sinkers, and jacks. Needle detectors and sinker rings mark out the issues related to needles. The fabric detector clarifies that the fabric can be worn with comfort. There is an expander, cloth roller, and adjustable fan for maintaining the fabric.


Types of Machines:
We have single as well as double jersey circular knitting machines. For a single jersey, we have a single sinker-needle set. The cam remains stationary while cylindrical with needle-sinker set may move. We should know that this machine would produce plain fabric.
We have interlock knitting machines consisting of four-track cylinders and two-track cams. This machine will produce knitting clothes, bubble-bubble, and other fabrics as well. Here the cylinders are of standard quality with consistent performance. Bedplate ensures stable operation without worrying about the effects of high abrasion and noise.


Social Aspects of Knitting Machines:
We can verify the enhanced production of fabric with excellent reliability from circular knitting machines. It is not quite challenging to maintain these machines. There is a significant saving on time and economy as far as manufacturers and exporters are concerned. Some regular kinds of stuff like woollens, socks, and mittens require circular knitting.


The latest invention is the eighty gauge knitting machine. These would produce tighter and prominent knits as compared with conventional knitting machines. For removing the cylinders of larger diameters, one tool is developed. It will ensure that there is no damage formed in the machine while removing cylinders.


There are optimistic ideas for this knitting industry as well. It is the clarification that we will get better knitting machines in the future.


Benefits We Get from Circular Knitting Machines:
The apparel manufacturers are now highly dependent on these machines. In every significant production footstep, we need these machines for faster production and timely delivery of projects.


Quick and accurate production is the main benefit of circular knitters. It is the main consideration for well-known clothing brands. It will supply bulk production at the lowest possible cost.
High efficiency and accurate stitching are other important phenomena. Some machines are equipped with sensors and programs to reduce human errors. Slipping in stitching or crooking in cables is eliminated with the help of these machines.
We make sure that all clothes are having relevant and tedious stitches.
If you are running the clothing business, you may afford this fair one-time investment for the company. You will have a huge profit will minimal maintenance.


Hence, you get the things you should know about knitting machines. Companies are nowadays producing huge amounts of fabrics even with complex designs.