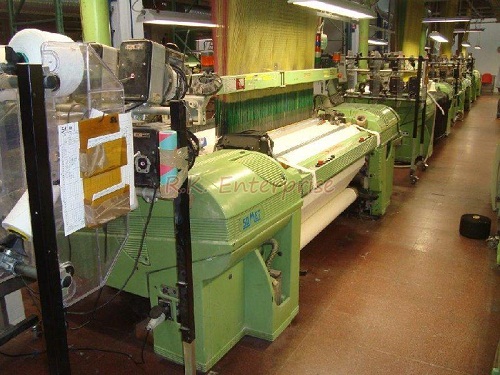 Rapier Loom is a textile weaving machine that is capable to produce a wide array of fabrics like upholstery, suiting, shirting, furnishing, heavy industrial weaving, and much more.
The machine is easy to use and capable to manufacture a variety of designs and requires very less maintenance. The somet rapier machines are well renowned in the market for their higher functionality, premium performance, and less cost of production.
The market is flooded with the different types of looms with special specifications to suit the different requirements of the customers. It includes the Air-Jet Projectile technology, which is apt for a wide range of applications. The machines are highly versatile, reliable and ideally suitable for different production needs. It comes in plain Dobby or Jacquard weaving loom machine.
FEATURES
• It has a low vibration feature at a high speed.
• It comes with a powerful electronic platform.
• The full-color touch screen provides a clear display to the users.
• It is precisely engineered to transform yarn and silk threads into a complete fabric.
• The different accessories which come with each machine are:
- 4 weft feeders
- 2.5 warp beams
- 2.5 cloth roller
- 5000 droppers
- 10600 harness
• The machines are flawless in nature and have a long service life.
Before employing them, one must ensure that the used somet rapier loom is crowned with the major attributes like robust structure, efficient functioning, smooth operation, superior performance, durability, hassle-free usage, less maintenance, and long functional life. It is always suggested to use an ISO certified loom in order to get assured about the quality of the machine. The providers of used rapier loom should focus on developing a high-quality product at cost-effective rates. The producers should adopt the following business practices in order to gain a competitive edge in the market-
· They should be backed by a team of dexterous professionals, which is highly proficient in offering a matchless product quality
· These entities should thoroughly adhere to the standards and norms laid down by the industry.
· They should have enough capacity to suffice the bulk and urgent requirements of their clients on a timely basis.
· The providers of used Somet rapier looms should be well-equipped with a widespread marketing and distribution network. This enables them to meet the requirements of geographically distributed clients.
· They should offer these machines at a cost-effective rate, to penetrate a large client base.
Thus, we can conclude that the used rapier looms offered by the reputed suppliers are highly embraced by the market for the virtue of high efficiency and reliability.